AND WE GO WAY BEYOND JUST EARTH-FRIENDLY
Serve it up steamin' and sustainable
Looking for an eco-friendly microwave safe container for your kitchen ready meals that need some heat? These bio-based containers are made with a heat-resistant material with 97% annually renewable resources. Compostable and made without chemicals of concern (unlike many leading petroleum-based to-go containers), you can enjoy your pipin' hot meal in peace knowing no nasty stuff has leached into it!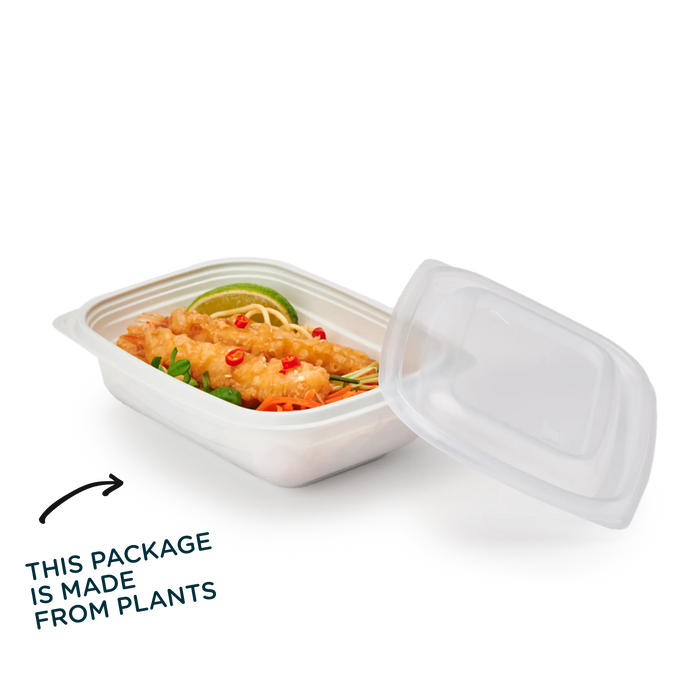 ---
Drop it like it's hot (it can take it) 
These microwavable to go containers were designed to pack in the heat and withstand even the bumpiest of rides. Equipped with a leak-resistant interlocking perimeter seal, super stackability, and crush-resistant strength, pack up your takeaway meals with confidence- GoodToGo™ Microwavable can handle whatever life (or the road) throws at it. Heat n' eat, rinse n' repeat- these guys are built to last and also be reused!
---
Perfect to heat n' eat or for delivery
Whether you're packing up your sizzlin' food for takeout or filling it cold so your customer's can heat it up and chow down later, this is the hot ticket container for you. Available in 16, 24 and 32 oz. sizes, we've got things covered with two great lid options: a heat-resistant lid that is microwave-safe, and an anti-fog crystal clear lid perfect for product visualization and deli shelf masterpieces.Both lid styles are compatible with our 16, 24 and 32 oz. take-out containers, because we know mix-and-match makes your inventory life much easier!